- Services on Short-Term or Temporary Basis -
If you wish to succeed in doing business with Japanese companies, it is highly recommended that you make effective use of bilingual professionals offered at reasonable prices by ABIC. Although Japan presents challenges in terms of language, culture, and business practice, ABIC's registered members with linguistic skills and international business experience can provide you with the expertise you need to establish a successful presence in the world's third largest country market.
Selecting from such registered members, ABIC will introduce you to an expert best suited to your specific needs for foreign language, merchandise knowledge and other fields. It would be, therefore, very helpful for you to employ the services of ABIC's bilingual professionals, in particular, if you do not yet have a base such as branch office or representative in Japan.
■Services Available to You: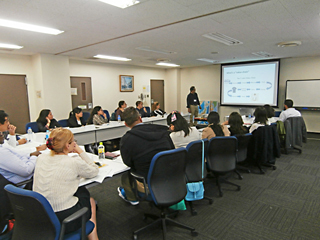 Capacity Development Seminar
for Investment Promotion
For 17 Foreign Countries
Governmental Trainees
arranged by JICA(PREX)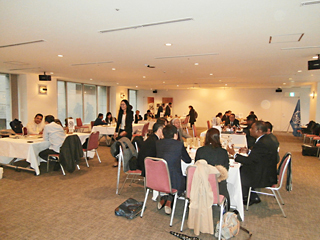 B2B Commercial Meeting
in Spice and Coconut based products
Organized by Sri Lanka Embassy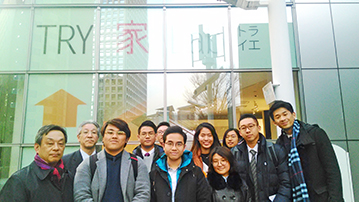 University students (from Hong Kong)
internship visit to Japanese companies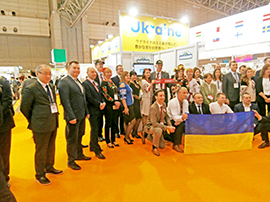 Foodex Japan 2019, Ukraine Pavilion
ABIC's goal is to help you minimize your investment and maximize your efficiency to ensure your success in doing business with Japanese enterprises. With the registered members capable of responding to any specific need, ABIC can offer you a full spectrum of services to support your efforts associated with Japan. ABIC bilingual professionals are, for example, prepared to:
Serve you as an interpreter at a trade show held in Japan enabling you to overcome the language barrier and the business practices peculiar to Japan. The interpreter can concurrently serve as a business adviser and, therefore, is called "bilingual business adviser"("BBA")rather than mere "interpreter"
Attend you as a "BBA" when you visit corporate offices, factories and trade shows in Japan, ensuring that your negotiations go as smoothly as possible
Conduct market research on a specified Japanese product and/or industry to familiarize you with its distribution channels, business customs, pricing systems, promotion methods, etc.
Give a lecture on comprehensive guidance on a specified Japanese product and/or industry, so that you come to know what customers want, what causes them to buy, what competitors are there, what the size of market is, and much more
Assist you in preparing a feasibility study report regarding your project related to Japan
Help you communicate with Japanese companies by translating e-mails and/or letters into the Japanese language and vice versa
Give comprehensive support for you to start a business in Japan, taking care of the feasibility study, incorporation procedures, staff recruitment, registration and registers, etc.
■Charge for Services:
The charge for a service varies depending on your specific needs. It will be quoted to you after you have informed us of your requirements in detail.
For your information, an English-speaking bilingual business adviser who serves you at a trade show or accompanies you to Japanese companies will cost you 25,000 Japanese yen or more per day.
We always welcome your inquiry. Please send it by an email to support@abic.or.jp or a fax to +81-3-6268-8652.
■Information Required:
When sending an inquiry, you are requested to inform us of:
The language(English, Chinese(Mandarin), German, Spanish, etc.)
Name, address and website address of your company
Name, position, phone number and e-mail address of your contact person.
In addition, please advise us of the following information:
(1)In the case of a Bilingual Business Adviser for a trade show
Name and site of the trade show
Date(s) for which you will employ the adviser
Details of products you will exhibit
(2)In the case of a Bilingual Business Adviser for visiting Japanese companies
Names and locations of the companies to visit
Schedule for the visits
Details of subjects or products you will discuss

(3)In the case of an Expert for market research report or a lecture
Product and/or industry to be reported or lectured on
Your rough idea about the content and volume of the report or the lecture
Deadline for our submission of the report, or date when the lecture is to be given
Deadline for our reply.
■Terms and conditions for services
Terms and conditions for service vary depending on the type of service.
(1)In the case of a Bilingual Business Adviser for a trade show and for visiting companies:
You are requested to place the order with us by an e-mail to support@abic.or.jp or a fax to +81-3-6268-8652 at least two(2)weeks prior to the date when the service is started.
Upon receipt of the order, our confirmation of order will be e-mailed to you together with our invoice for the charge.
Should you cancel the order within one week before the date when the service is started, we shall be entitled to claim the cancellation charge equivalent to 50% of the order amount.
You are requested to pay the charge in cash in Japanese yen directly to the adviser in exchange for the adviser's receipt immediately after the service is finished.
Please understand that we shall reserve a right to ask you to pay a certain amount of a fee for introduction separately from the charge.
(2)Other services:
Terms and conditions for services other than the above will be informed to you upon our receipt of information about your requirements.