In addition to the services described before, ABIC members are engaged in various activities in diverse fields at home and overseas.
Abroad
■Engaging in overseas programs related to Japanese government-affiliated agencies
Many ABIC members have been dispatched to developing countries as investment and/or commercial advisors in connection with the programs of the Japan International Cooperation Agency (JICA), Japan External Trade Organization (JETRO) and others. They are extending helping hands to the local industries to develop their businesses and/or promote their exports, while assisting the local government agencies in improving their functions.
Meanwhile, with the occurrence of the massive tidal wave along the Indian Ocean in December, 2004, three ABIC members well versed in the Indonesian language were dispatched to Sumatra as interpreters to help the medical activities of the Japan Self-Defense Forces.
■Helping overseas activities of Various NGOs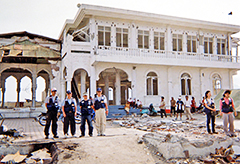 Indonesian-speaking interpreters
assisting the activities of Japan
Self-Defence Forces
in Sumatra, Indonesia
In response to requests from nongovernmental organizations operating in developing countries, ABIC provides them with personnel who can support the NGOs' social contribution activities as local managers or representatives. Included in such organizations are, for example, "The Japan Center for Conflict Prevention (JCCP)", an NGO aiming to prevent, contain and resolve conflicts around the world, and "Médecins Du Monde (MDU)", an international medical aid NGO based in France.
At Home
■Supporting Japanese SMEs for their business globalization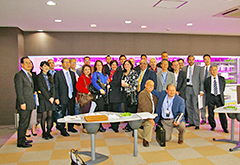 Export adviser promoting sales of plant
cultivation system using LED received
a mission from Latin American countries
To small and medium-sized enterprises intending to expand their business with foreign companies and/or planning to branch out into overseas market, ABIC introduces human resources to help them succeed in achieving their goals. Selecting from registered members, ABIC introduces an expert best suited to a SME's specific requirements, mainly on a short-term basis and sometimes on long-term contract basis. The lack of SME's own personnel to handle international business is compensated by ABIC personnel with linguistic ability and global business experience. Services rendered by ABIC members are typically as follows:
Develop market or promote sales of products as a business facilitator
Act as an adviser for corporate management and operation
Engage in export promotion of a product
Deliver a lecture of a foreign country's situation to a company employee who is about to be dispatched to the country
Give a lesson on foreign trade practices, etc. at a seminar held by an industry group
Translate brochures, pamphlets, etc. into a foreign language and vice versa
Serve as an interpreter when an SME has visitors from a foreign country
Go to a foreign country accompanying an SME's staff to take care of them

■Helping municipalities in their efforts to support the local SMEs' globalization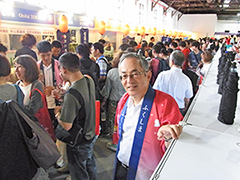 Export adviser promoting products
from Fukushima Prefecture
at a trade show in Hong Kong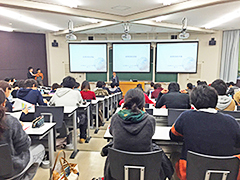 Lecturer talking about emerging nations'
economies at Tsukuba University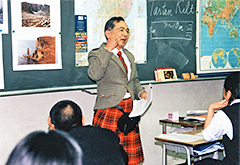 Lecturer talking about Scotland
at Yokohama Commercial High Schoo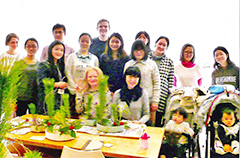 Japanese culture class
to introduce flower arrangement
to foreign students and their families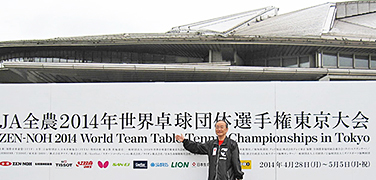 ABIC volunteer(s) playing an active role behind the scenes
for 2014 World Team Table Tennis Championships in Tokyo
Many municipal governments in Japan have public support system for the local SMEs to promote their business with foreign countries. At the request of an SME through such a government, ABIC introduces an appropriate expert suited to their requirements. The types of services rendered by ABIC members are basically same as those mentioned in the previous section.
Apart from the above services for SMEs, ABIC helps local governments seek foreign enterprises that might make direct investments in the municipality.
■Lecturing at universities and others
ABIC sends lecturers for many courses offered by universities and open colleges as well as for seminars held by economic organizations and local governments. A wide variety of subjects are covered by the lecturers. Some examples are trade practices, international business and global situations, risk management, environment and natural resources, and corporate strategies for advancing into overseas markets.
■Teaching at elementary, junior and senior high schools
To support educational programs for international understanding at elementary, junior and senior high schools, ABIC members give classes for the studies in an easy-to-understand way. Each lecturer talks about a topic of a foreign country where they have resided.

■Supporting foreign students and their families
To foreign students and their families now residing in the Tokyo International Exchange Center of Tokyo Academic Park and in Hyogo International House, ABIC offers charge-free Japanese language classes to teach Nihongo and Japanese culture classes to introduce calligraphy, karate, tea ceremony, flower arrangement, the go game, and Japanese chess.
■Volunteer activities at international events and others
Many ABIC members worked hard, free of charge, behind the scenes for the 2002 FIFA World Cup Soccer, making full use of Spanish, French, Portuguese and other languages which they had mastered overseas during their stay there on business. Meanwhile, during 2002 to 2010, once every year, some ABIC members volunteered to act as chairperson for the University Debating Competition sponsored by the English-Speaking Union of Japan. Other volunteer activities at international events ABIC members contributed to were 11th IAAF World Championships in Athletics (2007 in Osaka), International Skills Festival for All, Japan 2007, 2009 World Table Tennis Championships in Yokohama and 2014 World Team Table Tennis Championships in Tokyo.